An overview of Wednesday's realtime forex price action for GBPUSD shows that the rate fell sharply, as did EURUSD, after both rates had shown considerable strength lately.
Furthermore, although the GBPEUR cross had a significant trading range, it ended up virtually unchanged on the day, while USDCHF continued to push correctively higher.
GBPUSD Analysis
Cable had a strong down day on Wednesday, reaching as far down as 1.6218. This correction came after the rate had made another fresh recent high on Tuesday at the 1.6399 level within an impressive rally that commenced at the important 1.5343 reversal point of December 28th, 2010.
Although presently unexpected, a break below key support at 1.5976 that lies just below the psychological 1.6000 level would tend to accelerate the downside in the near term. To the upside, the resistance level to best remains 1.6399, and then above that the rate should meet resistance at 1.6456.
In addition, the rate's key 200-day Moving Average is now at 1.5724 and rising. This indicates a bullish medium term outlook for the rate and its level should effectively limit downside price action until a significant trend reversal takes place in GBPUSD.
GBPUSD's 14-day RSI has now come off somewhat from its former high levels seen during the rate's notable rise seen earlier this week. Nevertheless, the indicator is still reading toward the upper central part of neutral territory at 54 that may slightly impede upside price action in the near term.
Hourly and Daily Chart for GBPUSD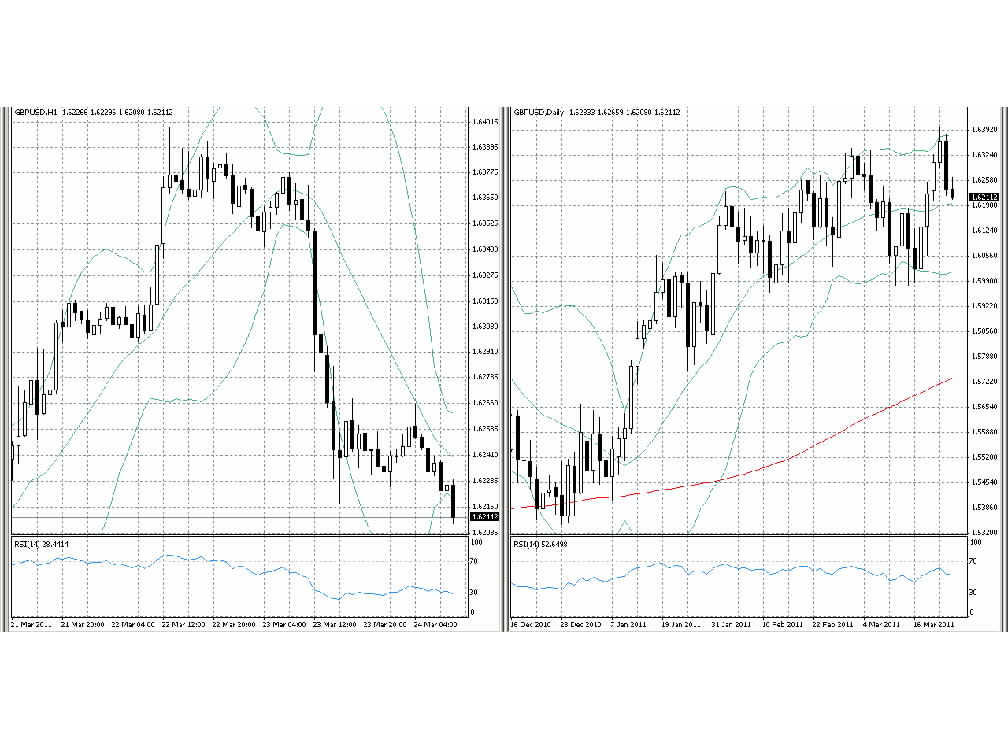 Chart 1: Side by side Hourly (left) and Daily (right) candlestick charts of GBPUSD showing Bollinger Bands in pale green, its 200-period MA in red, trend lines in purple, and the 14-period RSI in pale blue in the indicator box below the charts
EURUSD Analysis
A technical EURUSD analysis shows that the rate continued to fall on Wednesday after failing to make another fresh recent high above Tuesday's peak at the 1.4247 level. The overall rally in EURUSD is still expected to continue medium term, and a reasonable Euro forecast still targets the key 1.4281 reversal level of November 4th. Beyond that major resistance point, resistance then shows up at the 1.4579 level for EURUSD.
Initial support for the rate shows up at 1.4035, but a break below key support indicated in the 1.3752/1.3861 region would tend to neutralize the technical picture.
GBPEUR Analysis
The GBPEUR cross experienced a relatively wide trading range on Wednesday, but it closed the day virtually unchanged as it hovered just below important trendline resistance. The cross has been engaged in a notable downwards channel since the peak of 1.1970 seen on February 15th of this year. GBPEUR is currently testing the upper line of this channel, with a sustained break indicating a possible trend reversal.
Also, slight divergence seen on the cross' 14-day RSI versus the rate — while not in oversold territory — may be an early sign that the notable recent decline in GBPEUR may be heading for a consolidation or correction period. Key support now shows up at 1.1416, while resistance is indicated on the charts for the cross at 1.1582.
USDCHF Analysis
USDCHF has recently been correcting higher off of its latest long term low at 0.8916 seen on March 17th within its overall medium term downward trend. Wednesday's price action again pushed correctively higher to 0.9087, with early price action today peaking above that at 0.9123.
Although further corrective upside price action remains possible for USDCHF, the rate should eventually see selling pressure emerge if the medium term trend is to prevail. Furthermore, any short term corrective rally in USDCHF should meet initial resistance at the 0.9201 level and then above that at 0.9368 and in the 0.9774/82 region. On the other hand, look for the downtrend to reassert itself if key support at 0.8916 gives way.