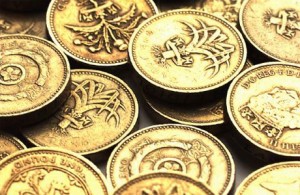 NEW YORK (Forex News Now) – Today the euro found a little bit of relief against the Pound as the FX rate bounced following a slew of disappointing economic news out of Europe.
The French Preliminary Quarterly GDP readings came in at 0.4%, which was 1/10th of a percent shy of where most economists had estimated. The Germans also fell short of expectations by 1/10th of a percent, as the number came in at 0.7%. The Italians proved to be the weakest link, as they printed 0.2%, instead of an expected 0.4%. Also served this morning was the EMU Quarterly GDP, coming in at 0.4%, instead of the 0.5% expected.
European Industrial Production for the month also missed the mark, coming in at -0.9%, which was well below the 0.4% expected, and could even be the result of a higher Euro. The FX rate rose however, even in the face of all of this bad news for Europe.
It should be noted that the FX rate could be affected by speculation that the ECB may step in and stabilize the Irish bond markets, as the spreads from the German benchmark are stretching again. This was the precursor to the last Euro sell off.
The interest rates on 10 year Irish bonds has risen from 6% to 9% in just the last couple of weeks, as traders start to fear the possibility of Ireland having to restructure, or simply default on its debts.
Looking to the charts, you can see that the red line suggests significant support and resistance at the psychologically 0.85 level. It appears that we may be retesting the area to see if former support will now become resistance. This is a common move, and as we are starting to see a long wick on the top of the daily candle, it is probably indicative of a lack of faith for buyers at this level.