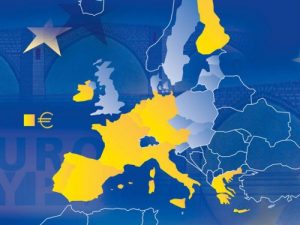 NEW YORK (Forex News Now) – The euro consolidated around the 1.3500 level against the U.S. dollar during the Asian session on Wednesday after falling sharply from around 1.3632 yesterday afternoon.
As of around 8:10 A.M. GMT, the euro was trading at 1.3476 down 0.08% from its open of 1.3492 with a session high so far of 1.3518 and a low of 1.3467.
The euro's consolidation comes as European leaders continue to press Ireland to accept a bailout package to aid the country's debt-stricken government. An anxiously awaited meeting between European finance ministers on the matter ended without agreement on Tuesday.
Forex analysis on Forexpros predicted that EUR/USD pair was "likely to find support at 1.3380, the low of September 28 and resistance at 1.3654, Tuesday's high."
The realtime forex news site Forexcycle.com placed EUR/USD resistance at 1.3660 and added that "as long as this level holds, downtrend is expected to continue and next target would be at 1.3300 area."