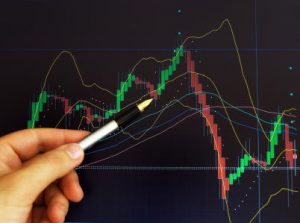 NEW YORK (Forex News Now) – FX traders are constantly looking for a trend. They aren't going to find it in this pair at the moment, as it has been in consolidation for the last week weeks. This should not be a surprise however, as the previous month has seen a straight shot up in the EUR/USD rate.
In order to illustrate the analysis to FX traders, I am going to discuss both the recent and long-term charts in the EUR/USD pair. One of the biggest sins that FX traders tend to commit is to focus on the "here and now", and then forget to pay attention to the "big picture."
Looking at the monthly charts, we can see that the trend has certainly changed over the last couple of years.

The first thing that you will notice on the above chart is that the main, or farthest left, trend line was broken, and as per usual – retested. (At point 1) Price then went down, and broke through a newly formed trend line, only to retest it again. (Point 2)
This shows that the markets are moving in an orderly fashion, which is how the central banks like it. Europe has not fixed its banking issues at all, no matter what the "stress tests" concluded earlier in the year. Remember, the US had similar tests, and the banks in the States are doing alright, but not stellar as the tests would have had you believe. They are only alive because of the "generosity" of the taxpayer and The Fed.
Drilling down to the daily chart, FX traders will notice that the EUR/USD has broken a steep daily trend line, as has been grinding sideways over the last two weeks. This is often a precursor to a trend change, and as the 1.40 psychological round number is just above, and adding the monthly chart, you would have to think a down move might be in the cards for this pair.