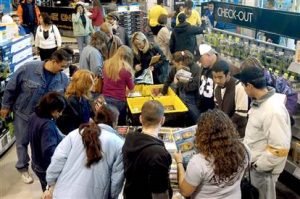 NEW YORK (Forex News Now) – A business research group is due on Tuesday to release a key report on U.S. consumer confidence in July, in one of the day's major FX news events.
The Conference Board is expected to say that its closely watched consumer confidence index slid to 51 during the month, according to two global forex news outlets, down from 52.9 in June.
The group is scheduled to publish the data at 2:00 P.M. GMT; as such, the report is likely to dominate European afternoon currency trading.
According to forex analysis, if the index falls at a slower pace than forecast, or even rises, EUR/USD could be lifted toward resistance around the high of May 10, 1.3094.
Should the index show a greater-than-expected decline, the currency pair could be could pushed toward support around the low of July 21, 1.2732.
However, upbeat data could also cause a surge in risk appetite and send the euro higher against the greenback anyway; a disappointing report, meanwhile, could also spark a flight from risk, actually benefitting the dollar.