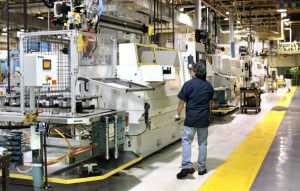 NEW YORK (Forex News Now) – The Federal Reserve is set on Wednesday to release a key report on U.S. industrial production in August, in one of the day's major realtime FX news events.
The Fed is expected to say that U.S. factory output increased 0.3 percent during the month, according to two online FX trading news outlets, after an increase of 1 percent in July.
The central is scheduled to publish the report at 1:15 P.M. GMT; as such, the data are likely to dominate European afternoon currency market trading. However, the report will be preceded by data on manufacturing in New York State, import prices and capacity utilization, which may also impact the market.
According to EUR USD analysis, if the report shows a greater-than-expected increase, EUR/USD could be pushed down toward support around Tuesday's low, 1.2829.
But if the report shows slighter-than-forecast growth, or even a decline in production, the currency pair could be lifted toward resistance around Tuesday's high, 1.3033.
Of course, the first scenario could, in fact, boost FX traders' risk appetite, which would be likely actually to benefit the euro against the dollar.