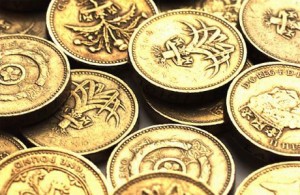 NEW YORK (Forex News Now) – GBP/USD analysis shows the following today:
The all-important 1.60 handle has shown to be a "double top" over the course of the last several months, as shown by the arrows on the chart below. What were even more impressive were the shooting stars that formed at the 1.60 level, as it formed the second top.
The GBP/USD analysis also shows that there is buying pressure as shown by the trend line below. In fact, the pair could be seen as forming an ascending triangle just below the resistance area. While the 1.60 handle has shown over time to be extremely tough to break, if this pair does, it should act like a beach ball being held under water. When it's finally released – it will pop up quickly.
The longer-term GBP/USD analysis shows that 1.68-1.70 could be the ultimate target if the pair can break above the 1.670 handle. This jives well with the overall fall from the highs back in 2008. (Remember the move above "2?" It seems like another lifetime ago doesn't it?)
On the other side of the trade, if the trend line that is forming the bottom of this triangle gets broken, it could signal another leg down. For cable to fail at these levels, it would show that the overall downtrend is still intact, and could push the pair much lower.
With the recent austerity measures in England, and the out of control spending in D.C., it is likely that the demand for the Pound will only go up in the long-run, but the Dollar will always find a bid when there is uncertainty in the world's financial markets.
Traders should also keep one eye on the gold markets, as they have been the best barometer for USD strength as of late.
Below is our chart of cable, with the areas mentioned above highlighted: