Wondering where gold and silver prices are heading in Q4 2016? Experts say that prices of precious metals will continue to rally up in the balance of 2016 and into 2017. Macroeconomic uncertainties can be seen driving appetite for safe-haven assets such as gold. The so-called poor man's gold, silver, is also seeing strong demand as traders jostle to hedge economic risks.
As much as analysts forecast continued rally in the prices of gold and silver, they have differing average price estimates for the precious metals.
Credit Suisse sees gold rising to $1,475/oz
Analysts at Credit Suisse have a bullish outlook on gold, because not only do they have a lofty price estimate for the yellow metal, but they have also been raising their price estimate for gold in the recent months.
At Credit Suisse, they see the price of the yellow metal averaging $1,475 an ounce in Q4. The upward trend in gold prices is expected to continue into at least early 2017, with the analysts forecasting $1,500/oz average price for gold in Q1 2017.
Credit Suisse has significantly boosted its price forecast for gold considering that back in April it predict $1,350/oz average price for gold in Q1 2017.
As for silver, the firm upped its average price for the metal in 4Q to $19. It remains bullish on the prospects of silver as it has a long-term outlook of $20 on the metal.
Citi sees gold averaging $1,320/oz and silver at $19.20/oz
At Citigroup, they see gold prices averaging $1,320 in 4Q. The firm raised its price forecast for gold in 4Q from $1,280. Citi also boosted its average price outlook for gold in 3Q to $1,340 from $1,325.
Regardless of what happens, Citi says that gold prices will stay above $1,300/oz for the balance of 2016. Uncertainty over the U.S. presidential election and gold buying by ETFs and hedge funds are some of the reasons Citi cites for being bullish on the yellow metal.
The bank is forecasting silver prices to average $19.20/oz in 4Q.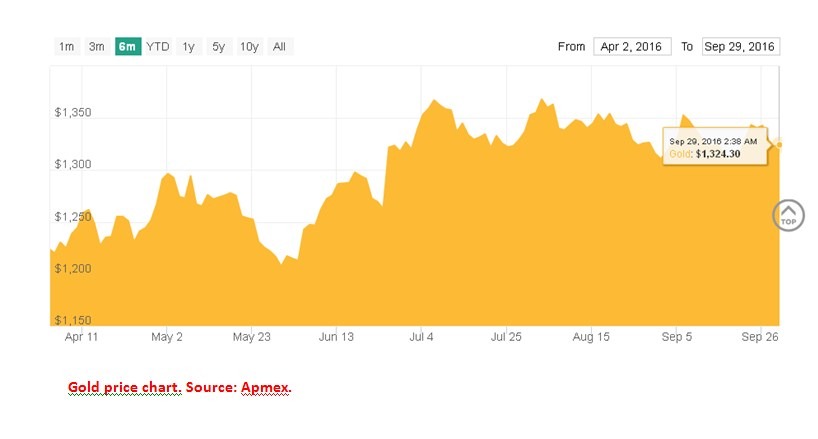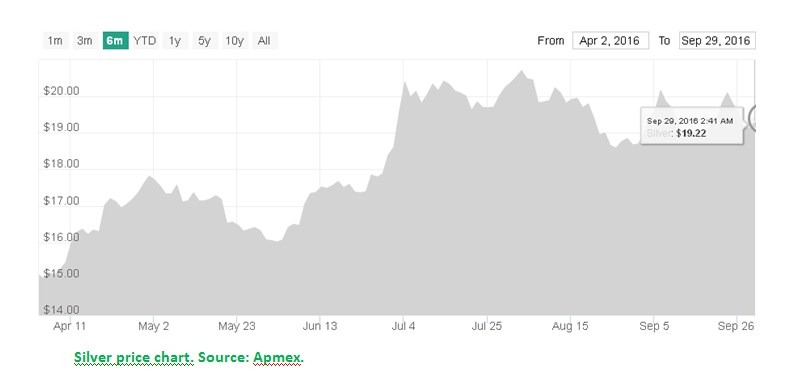 RBC somewhat cautiously bullish on gold
On their part, RBC Capital Market analysts seem to be somewhat cautiously bullish on the prospects of gold. They analysts see gold prices rallying in the range of $1,200 to $1,300/oz for the balance of 2016. As you can see, RBC's high-end price outlook for gold is lower than that of the other firms: Credit Suisse and Citi. However, the RBC boosted its forecast of gold prices in 2017 to $1,300. As for silver, the firm sees the price of the metal averaging $15.50 in 2016 and improving to $16.50 in 2017.
What's fueling demand for gold?
The reason analysts are forecasting a rise in gold and silver prices in the balance of 2016 and into 2017 is that they see increased demand for precious metals among ETFs and hedge funds amidg economic uncertainty. As for silver, the market deficit is seen playing a major role in driving the prices up.
Demand for safe-haven assets has strengthened as the U.S. presidential election in November nears and after the Fed decided not to hike lending rates at its September policy meeting.  In the lead up to the policy meeting, the Fed raised hopes of a near-term rate increase and when it didn't raise rates, the dollar retreated against a basket of foreign rivals, thus making gold more appeal for foreign traders. Easy money in Europe and Asia due to a series of easing and weakness in bond markets because of low interest rates are helping drive up the price of gold.
Prices of gold are expected to trend upward in the balance of 2016 and into early next year at a time when crude prices are predicted to remain depressed by supply-demand imbalance.