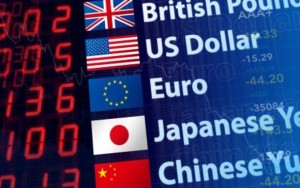 NEW YORK (Forex News Now) – The sell-off in the dollar witnessed today in forex trading news following the Federal Reserve's announcement has led many to look to the dollar and its trading pairs for upside potential.  EUR/USD has responded, advancing by 1.31%.  For many analysts, there are several indicators in play in the technical world that suggest the euro is setting itself up for a strong move.
Is there any supporting evidence for this position? If so, how likely is a big upward push in EUR/USD?
Analysis
A snapshot reveals that EUR/USD, currently at 1.3242, has made a big push after see-sawing back and forth over much of the past week.  This movement follows a strong upward trend that has led the euro to break out of the doldrums it was in following a disappointing summer.  In August, for example, EUR/USD traded at a low of 1.258.  The movement in the past few weeks represents a 5.25% increase.
The recent forex trading news from the Federal Reserve, interpreted widely as being negative for the dollar, will only work to lend more support to any upward movement in EUR/USD.
The euro has also racked up support from breaching the 200-day moving average of 1.3218, suggesting that this level – once a strong resistance level – will turn into a strong, long-term support level.   In fact, some analysts view 1.3334 as a reachable target, which represents the highest point since EUR/USD bottomed this year at 1.198 in July.
Technical analysis and qualitative analysis of current events seems to indicate that there is underlying strength in the euro versus the dollar. Other than this, though, are there any indicators that weigh against a resurgent EUR/USD?
Other Indicators
At first glance, nothing appears to loom on the horizon as far as monumental events go.  Upcoming economic news announcements from the euro zone appear to be relatively benign, so chances are Europe's economy will hold long enough for EUR/USD to appreciate further.
Of course, the upcoming release of the German IFO survey – a leading survey of the business climate in Germany, the largest contributor to the European economy – could be worse than expected.  No one really expects the IFO to be better than expected, so at best EUR/USD will probably see its upward momentum slow over the next week to two weeks.
Two American reports will also impact EUR/USD on Friday: the core durable goods report, and the new home sales report. Both forex trading news reports are expected to reveal improvements in these important areas of the American economy, which will likely lend support to the dollar.
All in all, expect EUR/USD to advance further before the week ends, with a long-term growth a distinct possibility.