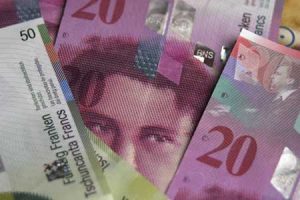 NEW YORK (Forex News Now) – It appears that the USD/CHF pair might be trying to form a base at the extremely low levels, if the weekly chart is any indication.
While both currencies can serve as "safe haven" currencies, it is the U.S. dollar that will ultimately win out if there is some kind of massive shock to the system in the near future, and there certainly could be.
Irish bonds are starting to show concerns via the rated that are being asked of the government to borrow. This was where trouble started in Greece, and culminated severe issues in Europe. This could be a catalyst for a run back to the dollar, knocking the FX rate of the Swiss franc in collateral damage as traders panic.
Another possibility could be found in Switzerland itself. The Swiss banks are something of the order of 60% of the country's GDP, and as such, tend to hold a large sway in the economy's health. One of the major weaknesses in the Alpine country is that these banks are all heavily exposed in Eastern European housing, which is a mess at best.
With the Hungarians openly admitting several times that the debts that they carry may need to be restructured, this cannot bode well for Swiss banks. Not only are the banks getting hit by homeowners having their mortgages readjusted to higher rates, but the currency fluctuations have suddenly made those mortgages even more expensive. If you make a living in Forints, and have to pay a mortgage back in Francs, the exchange rate can wildly effect your monthly payment.
However, looking solely at the charts, we seem to be consolidating at the lower level, but stabilizing. Looking at the two lines, we can see boundaries that make the area up. Also drawn on the chart is the all-important 200 day moving average, which shows just how oversold we really are. It should be noted that every time this pair has dipped this far, it tries to reach the MA again. A break of either line gives you direction for the short to medium term.