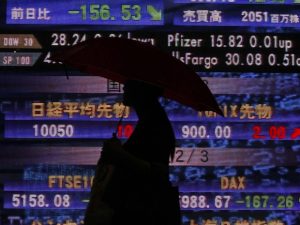 NEW YORK (Forex News Now) – In global forex news today, the Japanese government signaled that it was determined to actively combat a rising yen, more than likely utilizing methods similar to the currency intervention last week.
Seiji Maehara, the Japanese Foreign Minister, said today in an interview at the United Nations that his country's currency has "strengthened more than indicated by the actual strength of the Japanese economy." He further commented that speculation was the culprit behind the inexplicable rise of the yen – a rise, according to Maehara, that is not in proportion with the strength of the Japanese economy.
Japan Hints at Future Intervention
Maehara then released a tidbit of upcoming global forex news, alluding to a possible intervention by the Bank of Japan in the near future similar to the intervention witnessed by the market on September 15.
"Going forward, there may be a possibility for the Japanese government to show its very determined intent" to prevent the yen from moving further.
On the prospect of joint intervention, Maehara demurred and stated he did not expect other countries to join with Japan with a cooperative devaluation.  He did claim, however, that any actions would be communicated to Japan's primary economic partners, the U.S. and European Union.
Before Maehara's comments, though, came speculation that Japan had already launched a secretive intervention in the market.  In Asian trading Friday, the dollar inexplicably rose from 84.55 to as high as 85.38 before subsiding, a move thought to be either the result of the Japanese government or trigger-happy forex traders trying to get a jump on the market movement.
Trader Speculation
Traders are also speculating that the second Japanese intervention will need to be larger and more sustained than the first, which only had a temporary and limited effect on the currency.  The intervention on September 15th involved the Bank of Japan selling a total of 1.8 trillion yen on the market, causing USD/JPY to rise.
It is unlikely that a coordinated joint intervention will be accomplished; as a result, any second intervention would be, by necessity, more substantial than the previous 1.8 trillion yen mark.
Maehara's comments underscored the fragility of the Japanese economy with a soaring yen.  The global forex news that has sent the dollar and other currencies at time plunging downwards has sent the yen in the opposite direction, well away from the devalued positions that Japanese exporters prefer and towards dangerous waters.
The ongoing struggles with the dollar and the American economy, combined with increasingly-restless currency traders and Japanese exporters, will more than likely lead to another intervention within the next month to send USD/JPY back up.