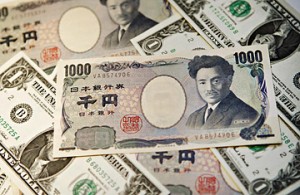 NEW YORK (Forex News Now) – Early this morning, the Japanese Household Confidence report came out at a reading of 40.9, which was just 0.30 higher than the consensus expectation and 0.30 below the previous report. This left FX traders with little new information with which to determine the value of the yen.
However, the yen seems to have caught the interest of FX traders this morning nonetheless. Sudden buying of the U.S. dollar over the last couple of days has seemed to hit a fever pitch today during the European session as FX traders are buying the greenback, perhaps doing a little "short covering" in the process, as the dollar has certainly been oversold recently.
The Household Confidence determines the mood of households regarding economic activity and is concluded from a survey of about 5000 households. Higher readings point to higher consumer optimism.
On the chart below, there is significant resistance on the USD/JPY just above, and traders may find it rough going in the near future to continue the push northwards on this pair. Taking a look at the most recent trend line on the daily charts, you can see that we have actually tested it during the European session, and have pulled back slightly.
Also of concern to dollar bulls will be the 83 handle, which is just above the previously mentioned trend line. Although not a major round number, it still is a round number, and has seen major buying and selling at that area in the recent past, as most dramatically depicted by the large green candle roughly six weeks ago (this candle is shown by the red arrow). It appears that traders are attempting to find out if the former support area will stand up as resistance, a common move in technical analysis.
Until the markets can push this pair decisively over the 83 mark, traders would be wise to be cautious going long the dollar over the yen, as it is still certainly in a massive downtrend, looking at it from the larger overall picture.