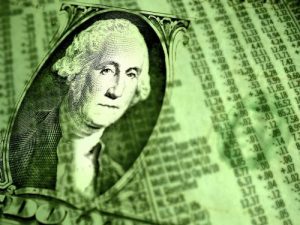 NEW YORK (Forex News Now) – The US announced its TIC Long-Term Purchases statistics on Monday morning, which is the report that announced the net difference in value between foreign long-term securities purchased by US citizens and US long-term securities that are bought by foreigners during the month.
The report will come out roughly 45 days after the month ends, making this report for the month of August.
Online FX trading barely budged during the announcement, although it was decidedly bullish for the US Dollar. The report came in at 128.7 Billion USD, versus the consensus estimate of 47.5 Billion USD. This shows that in the month of August, traders were still very nervous, as they bought up "safe" assets.
While this particular event didn't move the market, the TIC Long-Term Purchases report should be watched over the next few months to see if the figure continues to come in strong or not. With the Fed willing to buy more Treasuries, it could actually help an inflow of Dollars into the US, driving down the online FX trading rates of other currencies against the greenback.
In other words, the Fed's "QE2" could possibly backfire as they are planning on buying Treasuries, which should keep rates low, but at the same time almost guarantee that the value of bands should appreciate. Because of this, you may see European, Asian, and other banks take advantage of the fact they know that the Fed is backstopping that particular market. As such, they will have to convert their Euros, Pesos, Rand, and Yen into Dollars. And that could keep the value of the Dollar higher than the Fed wants.
Online FX trading over the next few months could reflect this flow of funds as it will be one of the few "safe bets" out there. Of course, it is also a bubble that is waiting to be popped, but that will come in time. Just not right away. In the mean time, we could see more money flow into the United States than most people would perhaps expect.
The TIC could also be the place to keep an eye on because of the European banking issues. (Remember those? They haven't gone anywhere.) As investors get nervous about the problems in Europe, they almost always run to the safety of US Treasuries.