Through the course of last week, the Canadian Dollar gained 120 points against its US counterpart, closing the week at 1.3127. The pair is faced with a busy week as the market anticipates releases concerning the benchmark interest rates, monetary policy, retail sales and the CPI.Last week, the USD weakened significantly against the CAD after previously reaching fresh lows since the 3rd of October. Let's take a technical look at the pair.
USDCAD Trend
The spate of overall strong fundamental data releases on Friday for the US economy led the pair to reverse some of its losses by the end of the trading day and subsequently pushed the pair back into the green in today's trading. The US retail sales data which recorded an increase of 0.6% in the month of September on the trail of a 0.2% decline in the month before, another major positive release for the USD was the core retail sales which went from the previous month's figure of -0.2% to its 0.5% increase.
The US Dollar also drew a lot of strength from Fed's Chair Janet Yellen's speech, where she raised the chances of a rates hike by the Feds in December. Yellen expressed that, keeping monetary policy loose for a long time can have a negative impact on the US economy growth.
Support/Resistance
If you observe the Bollinger Bands on a daily chart, it still has an overall horizontal stance as price range stays mostly unchanged. The MACD has over the last few days switched to signal a bearish momentum. The Stochastic is also in line with the MACD also signalling a downtrend for the pair, but with the stochastic closing in on the oversold level, there will likely be a short-term reversal.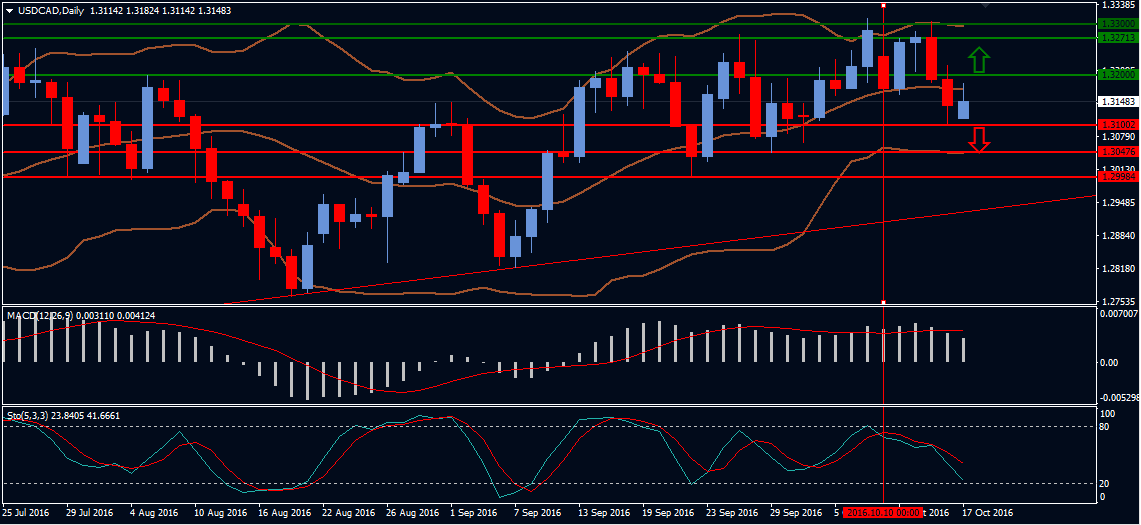 All indicators recommend waiting for a better signal, as the pair has been relatively flat over the last few trading days.
Support levels: 1.3147, 1.3127, 1.3100 (3 October level), 1.3079, 1.3047 (29 September low), 1.3024, 1.3000 (22 September strong psychological level)
Resistance levels: 1.3180, 1.3200, 1.3219 (14 October high), 1.3247, 1.3275, 1.3300, 1.3312 (7 October high), 1.3346 (16 March level).
Trading Hints
A BUY trade can be placed if there is a breakout above the 1.3200 level (with the Stochastics and the MACD suggesting an uptrend) with 2 Profit Targets; 1.3270 and 1.3300, stop-loss set to 1.3147. This trend will likely be maintained for around 2 to 4 days.
A SELL trade can be placed after the price breaks below the 1.3100 level with profit targets at 1.3047, 1.3000 and stop-loss set to 1.3150. Will be valid for 2 to 3 days.
Key Releases for the Pair
This week's key releases for the Pair include:
Foreign Securities Purchases: Monday, 12:30
Manufacturing Sales: Tuesday, 12:30
BoC Monetary Policy Report: Wednesday, 14:00
Overnight Rate: Wednesday, 14:00
Core CPI: Friday, 12:30
Core Retail Sales: Friday, 12:30
CPI: Friday, 12:30
Retail Sales: Friday, 12:30