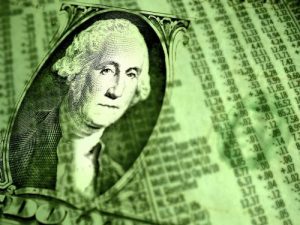 NEW YORK (Forex News Now) – The dollar's continuing plunge towards a grim future of devaluation has made many investors giddy with excitement over what this decline means for other securities.  As the dollar goes down, other securities go up – at least, that is what conventional wisdom holds.
Even though global forex news may be turning against the dollar and causing other securities to become more valuable, though, a weakened dollar is not necessarily good news for those who run to stocks, gold, or commodities.
The danger is that while other securities rise, they will not rise by enough to offset the loss in value experienced by the currency underwriting the security, so to speak – in this case, the dollar.
Simply put, the falling dollar means that the nation's collective purchasing power – and by association, the inherent value of American securities – declines as well.
The key factor here is in nominal gains versus real gains.  Nominal gains refer to what the asset or security is worth in dollars, while real gains refer to any actual gains or losses versus the corresponding drop in the dollar.
Michael Pento, a senior economist at Euro Pacific Capital, says, "If the dollar is going down faster than the market is going up, I know I'm losing money. The gains are only nominal in nature. When the Fed starts their next round of quantitative easing and the expansion of the balance sheet, all assets will rise but some will rise a lot less than others."
In other words, the drop in the dollar's value may very well outpace the rise in other securities, which means the investor will actually see net losses.
Federal Reserve announcement
The global forex news mentioned by Pento is the announcement made on September 21st by the Federal Reserve, which stated it was prepared to initiate another round of quantitative easing to stimulate the flagging economy.
Since that announcement, the dollar index has dropped more than 3.3%.  The S&P 500's index, by contrast, has risen by only 0.05%.
Some analysts are suggesting that the continued slide in the dollar will come to a bottom and reverse itself soon. They point out that the dollar is still not at the lowest point of the year, and once it reaches that point – if it does – investors will likely flock back to pick up the dollar for a nice bargain.
Either way, though, those who pay attention to global forex news should not be caught in a trap by depending on the falling dollar to continue to boost other securities.  As indicated above, that very well may turn theoretical profits into realized losses.