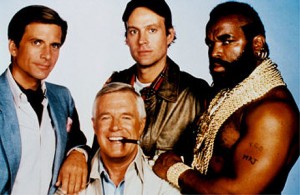 NEW YORK (Forex News Now) – The television series The A-Team and the recent film of the same name each document the adventures of four U.S. military commandos turned outlaw mercenaries.
Many FX traders who either grew up on the show, or watched the 2010 movie, may ask themselves a question that, in my view, touches on an issue of even greater significance than the fate of the global economic recovery, namely: If four heavily traded currencies were to form a similar band of crack troops in currency market trading, which currencies would play which commandos?
Of course, opinions may differ as to the ideal make-up of such a force in online FX trading; nonetheless, I will venture my own position on the matter.
B.A. Baracus: The dollar, obviously. According to intraday analysis, what other currency packs the punch of the greenback? As Mr. T says in the TV show, "I pity the fool who goes out tryin' a' take over da world, then runs home cryin' to his momma!" so the dollar could say in currency market trading, if it had the gift of speech.
Templeton "Face" Peck: The yen. The Japanese currency, known to many as the chilled out entertainer of global forex, often languishes indolently as a safe haven, composed as it is shunned in times of risk appetite, and unexcited as it is sought after in times of risk aversion. Its solidity certainly has allure, just like that of Peck, who is the only character to engage to have some kind of a love interest in the film – with the lovely Jessica Biel.
H.M. "Howling Mad" Murdock: Sterling – is there any doubt? Just like the mentally unhinged pilot, the pound is renowned for its volatility in FX trading. FX traders regularly bet on the currency, expecting an explosion on their charts not unlike the destruction of planes, ships and jeeps depicted in the recent movie.
John "Hannibal" Smith: The euro. He is clever and the leader of the team, but is old. In currency trading, the euro appears to lead other higher-yielding currencies in relation to the effects of risk appetite; and despite its youth as a currency, many of the states that it represents have been around for several thousand years.