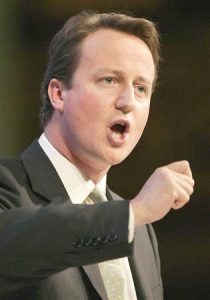 NEW YORK (Forex News Now) – As David Cameron, the British prime minster, on Tuesday launched a charm offensive on Barack Obama, the U.S. president, sterling was up to something very different against its U.S. counterpart in FX trading.
Cameron's visit came amid growing U.K.-U.S. tensions over the Gulf oil spill, Britain's austerity measures and BP's role in the release of the convicted Lockerbie bomber from a Scottish prison last year.
But during a press conference at the White House on Tuesday, differences over these matters seemed to evaporate in the air of Washington, D.C. – like a brief reminder of last night's chili cheeseburger – as the two leaders reaffirmed their nations' "special relationship."
Cameron, on his first visit to the United States since taking office in June, said: "To me, it is also an absolutely essential relationship if we are going to deliver the security and the prosperity that our people need."
Obama, for his part, declared that the U.S. has "no closer ally, no stronger partner [than Britain]."
Sterling, however, seemed to take the official visit as an opportunity to batter the dollar, joining in the assault with every other major currency in global forex – except for the yen and euro. GBP/USD climbed from a daily low of 1.5153 on Tuesday to close at 1.5276, a good 120 pips higher. Of course this pales in comparison with the kicking that the Aussie gave the U.S. dollar in currency trading, with its 150 pip jump.
The main reason behind the sell-off of dollars, of course, was the combination of a recovery in FX traders' risk appetite and the release of further weak U.S. economic data. And for sterling, Tuesday's rebound was merely the extension of the uptrend seen since late May, according to forex analysis.
Moreover, a strong pound is not necessarily good for Britain, just as a weaker dollar may not be a bad thing for the U.S. However, it is worth remembering that as Obama was lauding the visit as an "opportunity to renew the relationship with my partner, Prime Minister Cameron," sterling took the greenback round the back of the proverbial bike shed – for a good old-fashioned British battering.