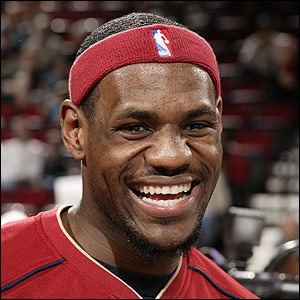 NEW YORK (Forex News Now) – When LeBron James ended months of suspense by announcing his move to the Miami Heat last week, the basketball superstar sparked a brushfire of criticism and praise that swept the U.S. media.
Cleveland Cavaliers owner Dan Gilbert, James' former boss, blasted the move decision as "narcissistic" and "cowardly behavior." Others weighed in, arguing that bolting the Cavaliers was an entirely legitimate decision for "King" James, who still lacks a finals win despite his prodigious talent.
How would the 25-year-old's decision play out in currency trading? Is there actually an equivalent in global forex?
My guess is that if you hooked up the two-time MVP with a live Metatrader account, he would short EUR/USD as if he were going for a slam-dunk. That is, he would sell euros and buy dollars. I'll explain why.
In shunning the Cavaliers' reported USD 30 million offer to stay on, James is clearly displaying risk aversion. He believes his chances of winning an NBA championship are far higher playing along fellow Dream Team buddies, Dwyane Wade and Chris Bosh, than with the Cavaliers.
The euro offers a similarly tempting opportunity to the risk-hungry to win big. But as FX traders still take a dim view of the single European currency's outlook in light of the euro zone's severe debt problems, James regards Gilbert's "personal guarantee" that the Cleveland Cavaliers "will win an NBA championship before the self-titled former 'King' wins one."
Of course, there was also an emotional element in the basketball player's move: Abandoning his former Cavaliers teammates and provoking the fury of the team's fans. Here James' behavior was similar to that of expert FX traders, who are at their best when they are level-headed and not too attached to their positions, according to forex analysis.
Or as the player himself put it rather unemotionally, "The major factor was the best opportunity for me to win, to win now and for the future also. Winning is the most important thing for me. I feel like this is going to be the best opportunity."