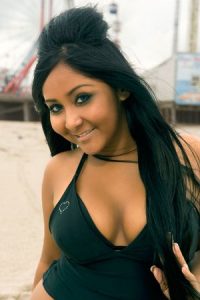 NEW YORK (Forex News Now) – The hit MTV show Jersey Shore has introduced millions to the antics of "Guidos" and "Guidettes," as well as enraging Italian American groups and earning a reference from U.S. President Barack Obama.
It has, until now at least, had little noticeable effect on the global forex market – an arena quite dissimilar to the beach house in Seaside Heights, where the show is based.
However, Jersey Shore does in fact share a key quality with currency trading: The reality TV show – which documents its cast drinking, eating, working out, tanning, partying, "creeping," and having sex – is at its core about human behavior.
Global forex, for its part, is also moved by FX traders acting on their fears and hopes over currencies, often letting themselves "blow it out of the water" on a position to which they have become emotionally attached.
And after such trades turn sour, many forex traders would react in a manner reflected in the following statement by "Snooki," AKA Nicole Polizzi, the diminutive star of Jersey Shore.
"When I woke up I was like what did I do last night? Like what did I do? I f*****d up… story of my life," she says in episode 1.
With Jersey Shore set to enter its second season this week, and currency trading also apparently beginning a new post-European debt crisis era, one burning question remains, in my mind at least. What would happen if the two worlds were to collide? What if Polizzi were to engage in a bit of online forex trading while her Guido buddies were out doing a spot of "GTL" (gym, tan, laundry)?
It is my belief that Snooki would buy New Zealand dollars, if for no other reason than she has been on Dr. Siegal's cookie diet. The weight-loss regime involves eating six 90-calorie cookies a day and would no doubt spark a mammoth desire for milk – of which New Zealand is the world's largest exporter.
Then again, we may never know what trades she executed, for to paraphrase the star in episode 7: It's forex b**ch; what happens in forex, stays in forex.