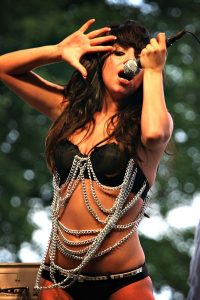 NEW YORK (Forex News Now) – You know everything about them intimately: their history, the contours of their body, their smell.
Oh, how you longed for their presence when they went away! But you built a new life for yourself, made other friends and succeeded – until they came back, presenting you with a opportunity both tantalizing and sickening.
Who has not been there, when faced with the return of the Ex?
Here is one person who is there right now: Lady Gaga. The pop superstar was photographed this week embracing her former boyfriend, Luc Carl, in a hotel swimming pool in Houston, Texas.
Another – entirely different in attire, mind you – group of people seen romping with their former loves recently is a large number of FX traders, who have been making FX news of late.
Yes, forex traders have been back buying up the yen against the dollar (and even euro in currency trading on Thursday) as though they have completely forgotten all of the bad times with which yen-acquisition is associated – the successive flights from risk brought on by the global economic crisis.
Yet there is something we all know, but are prone to forget, about playing pool games with old flames: those flames are bound to get wet.
In a recent interview with Rolling Stone, Gaga, born Stefani Joanne Angelina Germanotta, said: "I've really never loved anyone like I loved him. Or like I love him." Those are not the words of someone who has moved on; where is the spirit of the singer who sang Poker Face?
Similarly, the recent raft of weak U.S. economic data has powered the Japanese currency against the dollar in FX trading as if the fragile global recovery had already collapsed into a double-dip recession.
Of course, things could end well for the glam rock-inspired star and her on-again, off-again lover; some FX traders, too, may also gain from their yen positions. And if it does not work out, well, as Oscar Wilde put it: "Illusion is the first of all pleasures."