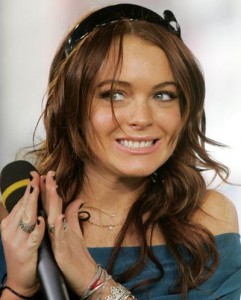 NEW YORK (Forex News Now) – In an almost stupefying marriage of the improbable with the unlikely, it appears that the reported release of Hollywood star Lindsay Lohan from rehab has had an impact on – wait for it – the New Zealand dollar.
Strange as it may seem, just as Lohan was said to have left treatment, three weeks after the 24-year-old actress completed a jail sentence, the kiwi tumbled to a 7-week low against the U.S. dollar in currency market trading.
You would have had to have taken a cocktail of alcohol and drugs – perhaps similar to that the Mean Girls star is reported to have occasionally indulged in – not to see a connection between the two events.
(It should be noted, though, that doctors testified last week that Lohan may have been misdiagnosed with ADHD years ago, and did not suffer from the drug and alcohol problems some had suspected, according to sources quoted by TMZ.)
And just why the New Zealand dollar reflected in the move? Well, after buying the kiwi in such large numbers that its ascent became a regular feature of real time forex news, FX traders abandoned the currency on Tuesday, upset by indicator analysis that suggested the world economic recovery was faltering.
Or in other words, after some time in forex rehab for excessive gains, the kiwi was finally released to navigate life with a more sober FX rate.
It is, however, impossible to tell whether the troubled actress will return to the headlines for purely professional matters, such as the upcoming film in which she plays porn star Linda Lovelace, or for further brushes with the law.
The same can be said of Lohan's New Zealand currency counterpart, although it has no stated plans to reenact a famed scene of deep-throat fellatio in online FX trading.