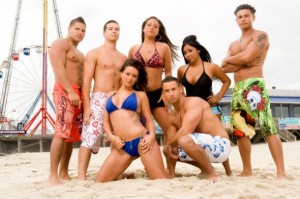 NEW YORK (Forex News Now) – It seems an unbelievable coincidence: One day after I asked what would happen if the cast of Jersey Shore were to become mixed up in currency trading, the hit MTV show's "Gorilla juiceheads" only went and rang the opening bell at the New York Stock Exchange.
Of course, it was equities trading that the heavily tanned Mike "The Situation" Sorrentino, Nicole "Snooki" Polizzi, Paul "DJ Pauly D" DelVecchio, and other cast members kicked off on Tuesday, not forex trading.
Sadly, since U.S. stocks put in rather a poor showing in the wake of the Jersey Shore opening, it may be better to examine the performance of the currency most likely to be traded by the 4-foot-9-inch Snooki, the similarly diminutive New Zealand dollar.
And it does actually appear that as Snooki – who was recently described in a New York Times article as "busty and short-waisted with small legs; sort of like a turnip turned on its tip" – gears up for the show's season two premier this week, the New Zealand dollar, or "kiwi," is staging a rally of its own in online forex.
On Tuesday, the currency surged to a 6-month high against its U.S. counterpart in FX trading, perhaps buoyed by the appearance at the NYSE of Polizzi, whose moniker was screamed throughout the floor several minutes before the reality TV star even appeared.
Snooki's comment in the first season, "Where are the juice-heads? I don't see any f**king guido juice-head, you woke me up for nothing," seems to suggest that she would not have relished being surrounded by traders, no matter how "pumped" they were.
But another classic quote from the 22-year-old may in fact be more pertinent to her experience on the trading floor: "Now I know that they all love me like I love them."
(It should be noted that the above quote continues: "Like, I stuck up for them; that's why I got hit in the face" – something that certainly did not happen at the stock exchange.)