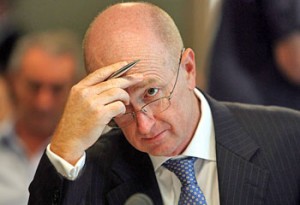 NEW YORK (Forex News Now) – The Australian dollar pulled back from a 2-year high against its U.S. counterpart on Wednesday, despite upbeat data on auto sales in Australia, as FX traders awaited a raft of U.S. economic data.
In European morning currency market trading, AUD/USD hit 0.9376, down 0.22 percent on the day, after retreating from Tuesday's 2-year high of 0.9457.
Data released by the Australian Bureau of Statistics showed earlier that new motor vehicle sales in Australia rose a seasonally adjusted 0.3 percent in August to 84,999 units, up from a downwardly revised 84,739 units in July.
According to intraday analysis, AUD/USD was likely to touch support around Monday's low, 0.9288, and encounter immediate resistance around 0.9457.
The Aussie's gains came as the United States was set to publish reports on manufacturing in New York State, import prices, industrial production, crude oil inventories and capacity utilization.
Elsewhere, the Aussie skyrocketed versus the yen: AUD/JPY traded at 80.04, up 2.56 percent.