ForexNewsNow – CitiFX Pro is a major international forex broker, bank and market maker. The company offers top-notch forex trading services which are mostly designed for expert and large-volume traders. This is mostly reflected by the fact that the lowest deposit amount a trader will have to make to open a live account is $10,000. Check out the CitiFX review below for more info.
CitiFX Pro Account Types
The first account type available at CitiFX is the Standard Account. These are recommended to professional traders who don't necessarily intend to trade huge amounts of money. Still, setting up such an account requires an initial funding of $10,000. This is also valid for deposits in GBP and EUR.
This account type will allow traders to trade with spreads from just 1.6 pips as well as on 130+ currency pairs. The large selection of currency pairs allows professional traders to design advanced trading strategies involving lesser known and more profitable currency pairs. Spreads of more exotic currency pairs tend to be higher than those of mainstream pairs, but they are still below industry average.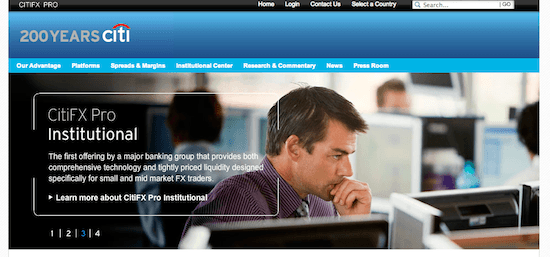 The second account type at CitiFX Pro is the Premium Account. In order to set up this account traders will have to deposit at least GBP 30,000 or equivalent. As such, this account type is recommended to traders who are seriously interested in trading forex with extremely large amounts of money.
In exchange, these accounts offer spreads as low as just 1.2 pips. Likewise, users of this account type will benefit of Citibank's deposit insurance policy. The deposit insurance policy enables the trader to receive a compensation of a maximum of GBP 50,000 in the unlikely event that Citibank and its CitiFX forex brokerage is not able to fulfill its financial obligations.
Premium account holders are also able to switch from the spread pricing model to a commission based pricing model. In this case, CitiFX Pro will charge a sum of $35 per $1 million traded. This is the most advantageous pricing model at CitiFX.
Spreads and Commissions
Overall spreads are low at CitiFX. As explained above, in the case of a standard account, the lowest spread is 1.6 pips while in the case of a premium account this is 1.2 pips. Also, as explained, in the case of premium accounts, traders can opt for a commission-based pricing model which is extremely advantageous if traders trade with extremely large sums of money.
Minimum Deposits
As explained above, CifiFX is a brokerage that is only recommended to professional forex traders. As such, minimum deposit limits apply. The lowest deposit limit is $10,000, which is in the case of standard accounts. Another limit is GBP 30,000, in the case of premium accounts.
CitiFX Pro Platform and Usability
CitiFX uses the renowned MetaTrader 4 online trading platform. MetaTrader 4 is one of the most popular and best-performing FX trading platforms on the market. The MetaTrader 4 was actually designed for new traders in order to offer them an easy time learning all aspects of forex trading.
Still, it's an extremely good choice for very experienced traders as well since the platform is extremely easy to use and understand. Likewise, it contains a multitude of advanced features which are necessary in the portfolio of every serious online trader.
Besides the downloadable desktop format, the MT 4 platform at CitiFX is also available in a web-based format allowing traders to access their account from any web browser and any computer. It's also available in mobile format so that traders can trade from every location that has an internet connection.
The technology available at CifiFX is powered by the renowned financial institution and broker Saxo Bank.
Regulation of CitiFX Pro
Being run by a large bank and financial institution, CitiFX is naturally regulated and well supervised. The broker is regulated by the UK Financial Services Authority. The Financial Services Authority is the United Kingdom's state-run institution that supervises and controls financial institutions.
The FSA is one of the most reputable regulators on the globe. In order to become licensed by the FSA, financial institutions such as Citibank and CitiFX must comply with a multitude of fraud prevention and user protection guidelines. The FSA is constantly checking the licensed institutions to see if they comply with all the rules.
Conclusions
As hinted above multiple times, the services offered by CitiFX Pro were only designed for large and professional forex traders. Newcomers – even if they can complete the minimum funding requirements – are not recommended to register.
Professional traders, on the other hand, will have all the needed tools at their disposal to generate large revenue. The low spreads and advantageous commissions were specially designed to meet the needs to traders with large volume transactions.