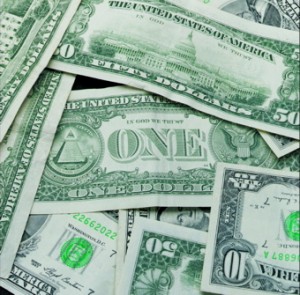 NEW YORK (Forex News Now) – The U.S. dollar jumped broadly on Friday, as further weak U.S. economic data sapped FX traders' risk appetite.
In late U.S. currency trading, the dollar climbed against the euro and pound, with EUR/USD trading at 1.2946, down 0.03 percent, and GBP/USD trading at 1.5308, down 1 percent.
The greenback's advances came after Treasury Department data showed earlier that global demand for long-term U.S. financial assets slowed in May, as foreign central banks reduced their holdings of Treasury bills and investors abroad sold stocks.
A report on U.S. consumer confidence also weighed on investor sentiment.
Meanwhile, the U.S. dollar was up against the Swiss franc, with USD/CHF trading at 1.0502, up 0.9 percent.
The U.S. dollar also advanced against the Aussie, kiwi and loonie: AUD/USD traded at 0.8714, down 1.46 percent; NZD/USD traded at 0.7125, down a massive 2.33 percent; and USD/CAD traded at 1.054, up 1.52 percent.
But the greenback was down versus the yen, with USD/JPY trading at 86.77, down 0.71 percent, following an upbeat outlook from the Bank of Japan.
The U.S. Dollar Index, a six-currency gauge of the greenback's strength, was up 0.19 percent.