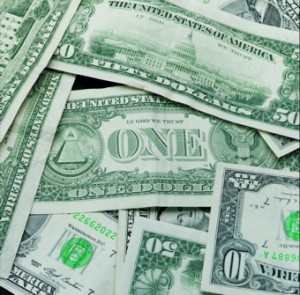 NEW YORK (Forex News Now) – The U.S. dollar was mixed against its major counterparts on Tuesday, as FX traders awaited the publication of the "Beige Book," the Federal Reserve's reading on regional economic conditions.
In New York afternoon currency trading, the dollar climbed against the euro, with EUR/USD trading at 1.2994, down 0.02 percent.
The euro's light losses also came after a weak report on U.S. durable goods orders sapped risk appetite. Commerce Department data showed earlier that demand for durable goods from American factories unexpectedly fell 1 percent in June, after a fall of 0.8 percent in May.
The U.S. dollar also advanced against the Aussie, kiwi and loonie: AUD/USD traded at 0.8933, down 1.01 percent; NZD/USD traded at 0.7292, down 0.57 percent; and USD/CAD traded at 1.0364, up 0.09 percent.
The kiwi's losses came ahead of a key interest rate decision by New Zealand's central bank.
The Reserve Bank of New Zealand was expected later in the day to raise its benchmark interest rate 25 basis points to 3 percent, in its second straight interest rate hike.
But the U.S. dollar fell against the pound, with GBP/USD trading at 1.5598, up 0.03 percent, after Bank of England Governor Mervyn King signaled the central bank was in no hurry to raise interest rates.
The greenback was also down versus the yen and Swiss franc, with USD/CHF trading at 1.0573, down 0.3 percent, and USD/JPY trading at 87.54, down 0.41percent.
The U.S. Dollar Index, a six-currency gauge of the greenback's strength, was down 0.13 percent.