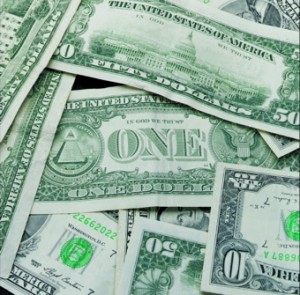 NEW YORK (Forex News Now) – The U.S. dollar sank broadly on Thursday, as FX traders' hunger for risk amid rising global equities and on the back of upbeat economic data from the United States and Europe.
In U.S. afternoon currency trading, the dollar fell against the euro and pound, with EUR/USD trading at 1.2894, up 1.1 percent, and GBP/USD trading at 1.5268, up 0.68 percent.
The greenback's losses came after surveys by Market research firm Markit showed earlier that euro zone's private sector expanded at a faster pace in July, lifted by an unexpected pickup in both the manufacturing and the services sectors.
Meanwhile, the greenback slid versus the Swiss franc and yen, with USD/CHF trading at 1.0434, down 0.76 percent, and USD/JPY trading at 87, down 0.06 percent.
Thursday also saw the release of mixed U.S. data: A key report showed that existing home sales climbed more than expected in June, but separate data showed that initial claims for unemployment benefits rose faster than forecast last week.
The U.S. dollar also tumbled against the Aussie, kiwi and loonie: AUD/USD traded at 0.8931, up 1.71 percent; NZD/USD traded at 0.7254, up 1.82 percent; and USD/CAD traded at 1.0368, down 1.17 percent.
The U.S. Dollar Index, a six-currency gauge of the greenback's strength, was down 0.8 percent.