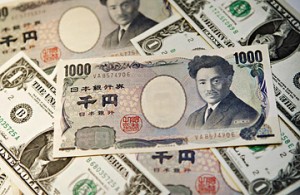 NEW YORK (Forex News Now) – The dollar surged against the yen on Tuesday, hitting an 8-day high, in the wake of weak Japanese inflation data and reportedly amid speculation that the Bank of Japan will keep interest rates near zero.
In U.S. morning currency trading, USD/JPY hit 87.93, its highest since July 15. The currency pair later retreated slightly to trade at 87.86, up 1.12 percent on the day.
The Bank of Japan earlier said its corporate services price index, a leading indicator of consumer inflation, slid 1 percent in June from a year earlier, after dropping a 0.8 percent the previous month.
According to forex analysis, USD/JPY was likely to touch support around last Friday's low, 86.74, and encounter immediate resistance around the high of July 15, 88.41.
The greenback's gains came despite data from a business research firm which showed that U.S. consumer confidence deteriorated more than expected in July.
Meanwhile, the yen slumped versus the euro: EUR/JPY traded at 113.95, up 0.94 percent.