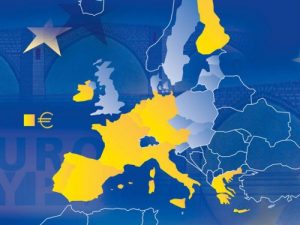 European Commission's economic confidence improved for the sixth consecutive month in November, to reach its highest level in three years. Economic confidence rose from 103.8 to 105.3, while the consensus was looking for a slightly weaker figure of 105.0.
However, the details show a more mixed picture as services confidence surprised on the upside of expectations (10.2 from 8.1), while industrial confidence improved less than expected (0.9 from 0.0). Retail (-1.5 from -1.1) and construction confidence (-26.4 from -25.4) worsened slightly, while consumer confidence came nout broadly in line with expectations.
National data show that the improvement was led by Germany (116.3 from 113.5), while figures of peripheral countries showed a weaker picture. Economic confidence worsened in Portugal (88.5 from 90.7) and weakened also slightly in Greece (67.0 from 67.3) and France (104.9 from 105.1), while Spanish economic sentiment rose slightly (90.8 from 90.5).
This outcome confirms what was already visible in the PMI's: German economic growth continues to surprise on the upside, while the periphery underperforms.
In Belgium, CPI inflation rose by 0.12% M/M in November, while the annual rate dropped from 3.01% Y/Y to 2.86% Y/Y. Upward price pressures were led by vegetables and fuels, while prices of package holidays and meat dropped significantly. CPI
excluding energy stayed unchanged for the third consecutive month at 1.65% Y/Y. Spanish CPI inflation dropped slightly in November (from 2.3% Y/Y to 2.2% Y/Y).
Other: UK mortgage approvals fall to eight-month low
In the UK, total net lending rose from £246 million to £1250 million in November, led by a significant increase in lending secured on dwellings (£963M from £287M), but also consumer credit rose from £75 million to £287 million. Mortgage approvals, on the contrary, fell to an eighth-month low (47.2K from 47.4K), which indicates that housing market remains fragile.
M4 data showed a mixed picture as the monthly figure rose by 0.7% M/M in October, while the annual rate fell sharply (from 1.1% Y/Y to -0.7% Y/Y). The Bank of England's preferred money supply gauge, M4 excluding intermediate financial corporations, rose to 2.9% on an annualized basis in the three months to October, from 2.5% in the previous three month period.
Content provided by: KBC Bank