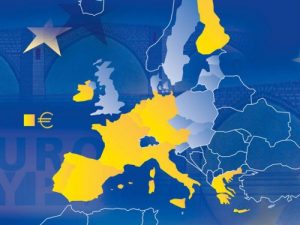 NEW YORK (Forex News Now) – Various currency auctions in the Euro Zone on Tuesday and Wednesday have lent strength to the euro and have provided investors with a bounty of intriguing global forex news and interesting possibilities for potential movement.
Portugal Makes a Move
Today, for example, Portugal sold 750 million euros worth of 4-year bonds and 10-year bonds on the back of strong demand due to rising yields.  The bid-to-cover ratio rose to 4.9, up from 1.8 for sales last month.  Germany also sold 4.715 billion euros worth of bonds on Wednesday, to go with strong sales from Spain and Ireland yesterday.
Investors jumped on purchasing European government debt from the above countries after the Federal Reserve declined to increase American interest rates on Tuesday.  Since interest rates are set to remain incredibly low for the dollar, investors feel better yields are to be had from turning to eurozone bonds – and, by relation, the euro.
As a result, EUR/USD has risen 0.96% to 1.3382, after previously reaching a new 5-month high at 1.3433.  Strong buying from Middle-Eastern central banks helped to spur the growth, predicted by the euro crossing its 200-day moving average.
A Change in Forecast?
The strong auction results is a positive reversal from this summer's gloomy global forex news predicting a total meltdown in the eurozone on the daunting debt crisis with several eurozone members, including Portugal, Spain, and Ireland.  Indeed, this month's bond auctions are part of measure undertaken by those countries and others to generate revenue and pay down the eurozone's collective debt.
Orlando Green, a bond strategist with London's Credit Agricole, suggested that the strong demand yet relatively-low offering of only 750 million euros is a strong indicator for the euro.
"The auction seemed to go rather well, with no hiccups, and demand was pretty high. I am actually surprised they placed only 750 million euros, but this may be a message to the market that they are not desperate to place much more."
Echoing the high demand, the Portuguese Institute for Public Credit Management stated today that it has reached 90% of its bond issuance needs for 2010.  Experts expect only 2 billion euros worth of continued issuance remaining for the rest of the year.
Investors looking to profit off of this global forex news can use this development with the FOMC announcement from yesterday to predict continued strength in EUR/USD.  All signs indicate that the upward movement will continue for the time being.