Right after the Bank of Thailand announced on yesterday to begin experimentation with fintech (financial-technology) products next year, a new study has been released by SAP and IDC that gives the world a totally differently perspective on fintech startups and their cross-service with the banks. According to the study, approximately 25% of the big banks see fintech firms as potential acquisitions, which is both surprising and uplifting news for the future of financial services worldwide.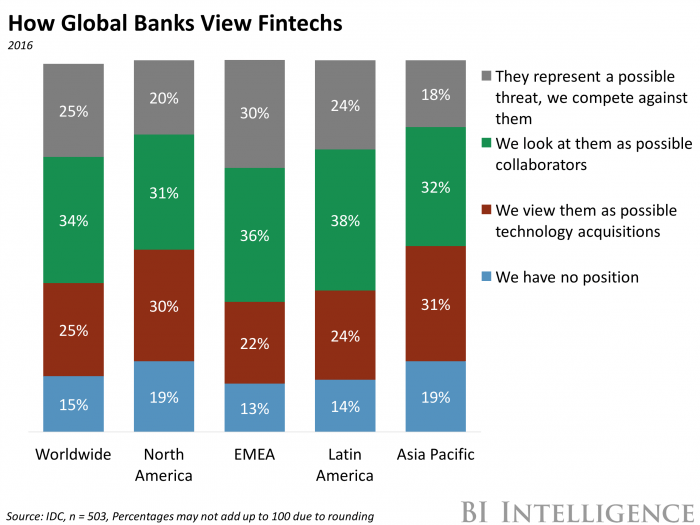 While the study shows different results from one region to another, the numbers are pretty conclusive. Aside for the 25% that have shown their interest in purchasing and incorporating fintech startups, another 35% have stated they would not mind to collaborate with this particular category of companies, which sums  up to 60% of all banks in the world that see fintech as a collaborator.
Fintech from the banks perspective – numbers by region
Region-wise, the Asia-Pacific banks are the most eager to lay their hands on fintech companies, with more than 31% of them showing interest in acquiring such a firm if they see a viable opportunity. On the other hand, the banks in South America and the EMEA region (Europe, Middle East and Africa) are the keenest to collaborate with the young financial-technology industry: 38% and 36%.
Though the EMEA banks are the most willing to have business collaborations with fintech, especially the ones in Italy, UK and Ireland, and they see these startups as potential threats to their market share, they are the least willing to actually acquire them as proprietary technology.
Preparing for the future of Fintech
What does this mean for the future of fintech? First of all, they are starting to shift their influence from simple collaborations with the banks, either through investments or service contracts, to being able to negotiate full sellouts. This is a game changer for fintech startups as they will not see as much pressure to become profitable in a crowded and almost saturated market, since being bought by a bank is now a possibility.
Since the 70s when index mutual funds and ATMs became the main market share holders in the industry, this is the next big era for the financial service industry. The traditional players that have the same practices for decades will now have to adapt or be swiped off the table by fast paced startups that are completely redesigning the way business is done when it comes to asset management, P2P lending, insurances and online banking.
In conclusion, if you're working in any of the sectors above, you should carefully measure the impact that technology has on financial activities worldwide. Fintech startups now invest heavily in innovation while also navigating in a landscape with constant changing regulations, and the wild card that could completely disrupt the activities of big established players could be the blockchain itself.
Looking for the best crypto brokers? You can find them here: https://www.forexnewsnow.com/brokers/cryptocurrency/