Will EURUSD test 100-day Moving Average on a 1-hour chart?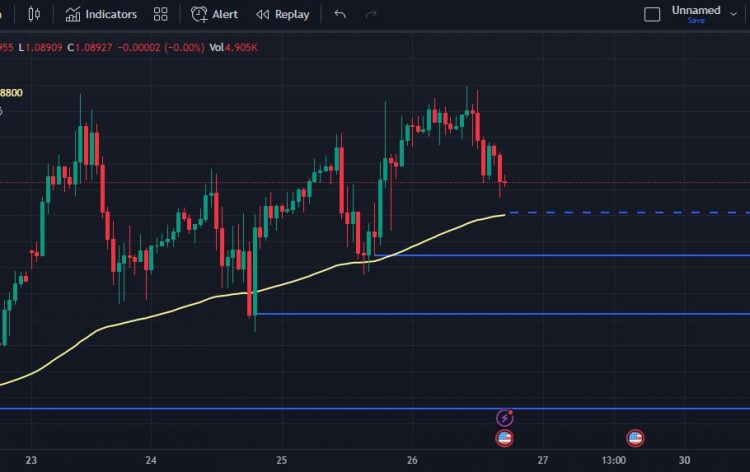 When trying to analyze currency markets, there are a few important things to do. First, analyze the bigger picture with fundamental analysis and then try to make sense of the price charts. Professional traders always combine the two analysis methods for the best results. So, let's do the same with the EURUSD pair by covering the overall big picture and then switching to charts for technical.
Bigger picture
After hitting the lowest price in 20 years, EURUSD started to turn around and Euro finally seemed to catch up with the dollar. Since the Fed is increasing interest rates in desperate attempts to halt inflation to acceptable levels, Europe is facing an energy crisis. As fears about energy were dispelled, the Euro started to gain back control. The EURUSD pair has been in an uptrend since September 2022 and doesn't seem to stop anytime soon. As winter's coldest months are slowly gone, fears of an energy crisis will end and the Euro is going to continue its upward movement. Will interest rate hikes slow this process down? We will need to see how the Fed manages another interest rate round to clearly know if it's going to affect the pair. Fundamentals are on the Euro's side in this matter and should amplify the overall uptrend. This winter seems warm, and it should not be a surprise that fears of cold weather are not affecting the Euro's price negatively.
Short-term analysis of the EURUSD hourly chart
EURUSD is a clearly defined uptrend. This makes it easy to predict what's going to happen at
the next MA dynamic level. Moving average provides a good dynamic support level for the pair and is going to test it soon. What happens next will show what is going to happen. If the price tests the 1.088 level and reverses, then it is a signal for a trend continuation. If the pair breaks down to the previous lower low, then the trend is no longer valid. Traders must watch these levels very carefully as all factors are indicating that uptrend continuation is likely.
Conclusion
EURUSD has been in an uptrend since September 2022 and recent global trends seem to positively affect the Euro's stand against USD. The Fed is trying to lower inflation to acceptable levels, which can potentially strengthen the dollar in the near future. Since the winter seems warm, the energy crisis no longer scares the European currency. Traders should watch the current 1h chart carefully and wait to see how things play out for EURUSD. Uptrend continuation has more chances than breaking down the already established trend. But no one has a crystal ball, including the author of this article. Traders should try to catch what is happening and try to follow already established trends in the markets.
By ForexNewsNow Team
More content by ForexNewsNow Team