ForexNewsNow – Forextrading.com is a forex broker that is owned and operated by the renowned Saxo Bank financial group which provides quality services to traders worldwide. The seat of the company is located in Cyprus where it is regulated by the Cyprus Securities and Exchange Commission.
Services Provided
Frorextrading.com offers a wide selection of forex assets which includes the usual major and minor currency pairs as well as more exotic pairs like the USD/ILS, TRY/JPY, and ZAR/JPY.
The spreads at Forextrading.com are very low which is of course to the traders' advantage. The spreads are always displayed in advance, so traders will be able to know exactly on what they are betting at any moment.
Choosing lower spreads, however, requires the trader to invest larger sums of money.  There are no commissions at Forextrading.com. Spreads might also be higher than the usual when involving less important and more exotic currencies.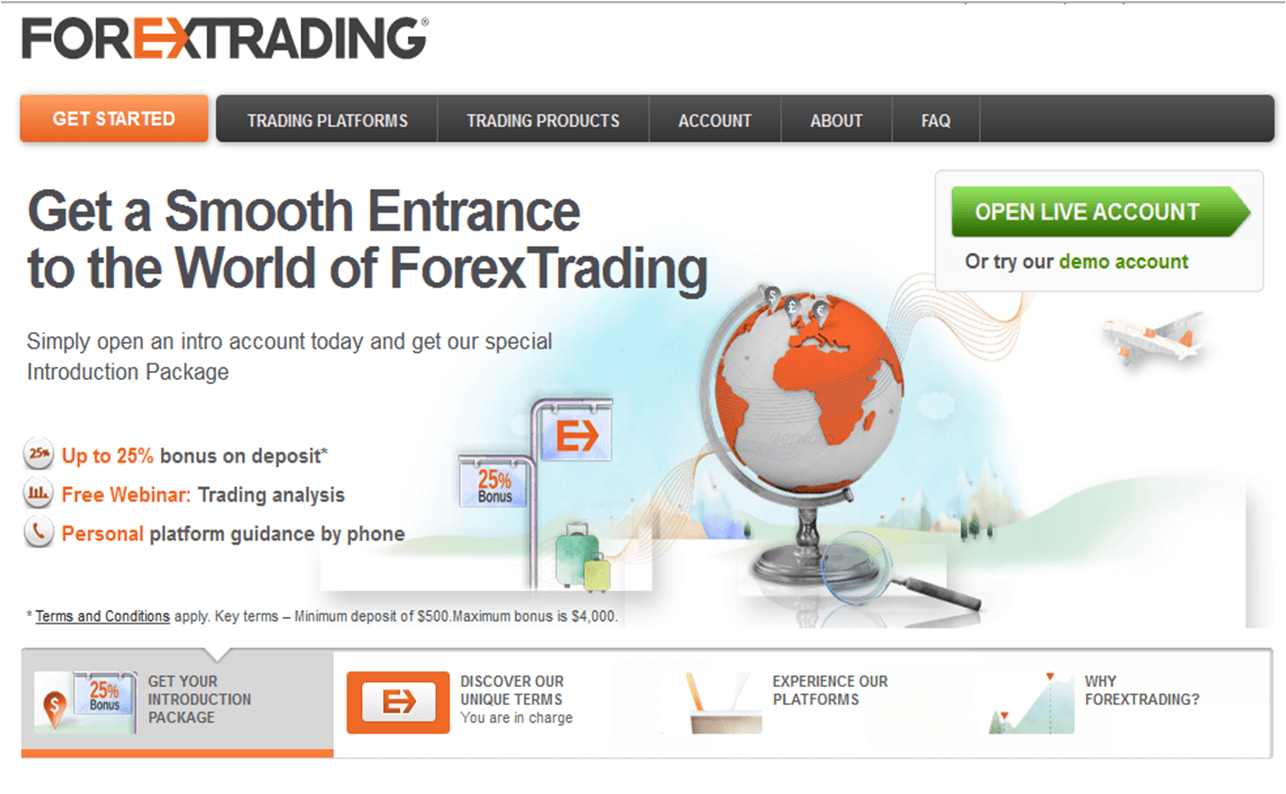 Forextrading.com Platforms
The principal platform employed by Forextrading.com is the very popular and widely used MetaTrader 4 platform. This platform is one of the best ones available in the trading business and allows traders to use various advanced features to execute their trades.
The MetaTrader 4 platform provides a large portfolio of analysis and trading tools that will offer traders the optimal trading conditions. The platform also has automatic trading capabilities allowing traders to design their own trading instructions that the system will execute by itself when a favorable opportunity arises.
The broker also provides a web trading platform that does not has to be installed on traders' computers. Traders simply connect to their broker account right from their browsers. This platform contains all the advanced features of the PC-based MetaTrader 4 platform.
Mobile trading enthusiasts will be able to connect to their Forextrading.com account right from their smartphones. The mobile platform also integrates all the advanced functionality of the regular PC-based platform without the loss of user experience.
All these platforms are very easy to use. If traders have used the MetaTrader 4 trading platform at some point in the past, then trading at Forextrading.com will be extremely easy. New traders will also be able to quickly understand every aspect of the services provided since the MetaTrader 4 platform is known to be one of the most newbie friendly platforms in the business.
Deposits and Withdrawals
Depositing money at the broker is possible though credit card and wire transfer. More exotic depositing methods such as Neteller and PayPal are at this moment not available. In regards to credit cards, traders will be able to make a real money deposit either through Visa or MasterCard.
Withdrawing money is possible using the same payment method that as used during depositing. When making a withdrawal the broker will require traders to prove their identity by submitting copies of various documents. This is a perfectly normal security measure that is in place in order to prevent fraud.
A $10 withdrawal feel will be applied on wire transfer withdrawals below $1,000. Transfers over $1,000 will be subjected to a fee of $20. In case of credit card withdrawals a transfer fee of 3,5% will be applied.
Forextrading.com Deposit Bonus
New traders will have the possibility to receive a deposit bonus of 25% on their initial real money deposit. The bonus will only be applied to first deposits that are above $500. The maximum receivable bonus money is $4,000.
This bonus money will be added into the trader's cashier right after the deposit has been completed. Traders will not be able to withdraw the bonus instantly but they will be able to use it to execute real trades. The money will be actual real money, just like the money that has been deposited by the trader.
Conclusions
Being part of the Saxo Bank Group, Forextrading.com is by far one of the most reputable forex brokers on the market. It's also regulated and licensed by the Cyprus Securities and Exchange Commission, making sure it respects traders' security and integrity.
It provides a large portfolio of services that can be accessed even directly from web browsers but also smartphones. The broker also provides an attractive free money deposit bonus to new registrants.