GAIN Capital Holdings, which gives its traders low-cost access to foreign exchange market, started a modified Dutch auction to provide GAIN's stockholders with the opportunity to tender all or a portion of their shares and receive a return of some or all of their investment in GAIN. Sellers will be able to purchase up to $50 million of shares of GAIN's common stock at a price not less than $7.24, nor greater than $7.94 per share.  They will also obtain liquidity regarding their shares without any disorders at the share prices.
The closing price of GAIN's common stock on the New York Stock Exchange on October 8, 2018, was $6.91 per share before they started the Offer. The Offer is due to an expiration at 5:00 P.M., New York City time, on November 6, 2018, unless it is extended.
The commencement of the auction was conditioned by the current situation in the online trading industry, which involves the decreased volatility of currency price and tighter regulations within the EU.
The Process of a Dutch Auction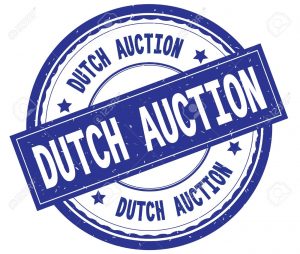 A Dutch auction enables its participants to discover prices. In this process, the auctioneer starts with the highest asking price and lowers it until it reaches a price level where the bids received will cover the entire offer quantity. It is appropriate for instances where a large quantity of the items is being offered for sale, as opposed to just a single item. The GAIN Capital price range being offered in the Dutch auction is at a 5-15% premium to the current share price.
Glenn Stevens, Chief Executive Officer of the GAIN Capital brokerage states:"The Offer underlines our ongoing commitment to executing a balanced capital allocation strategy to enhance shareholder value. Given our strong capital position, particularly in light of the $85 million in proceeds generated from the sale of the GTX business, as well as the current market price of our common stock, we believe the Offer is a prudent means to return capital to shareholders. Our strong capital position also allows us to make appropriate investments to pursue growth initiatives, consistent with our goal of delivering long-term value."
More About GAIN Capital
Since 1999, the US-based Forex broker GAIN Capital Group has expanded its product offering and global reach and now provides 140,000+ retail and institutional investors with access to OTC and exchange-traded markets. Its businesses include global CFD and FX brands FOREX.com and City Index, Faraday Research, provider of the daily actionable trade ideas on FX and equity markets for traders, and Daniels Trading, which offers individuals and institutions with access to over 30 global exchanges through self-directed and broker-assisted trading accounts.