ForexNewsNows – HYMarkets announced a series of attractive promotions that will be offered to traders who decide to register. The new promotions will be valid until January 31st 2013. The prizes offered in the promotion include guaranteed cash rewards as well as the possibility to win a luxurious trip for two to the Caribbean.
The prizes offered by the broker depend on the amount of the initial deposit as well as the trading volume executed by a newly registered trader. In case traders make a deposit between $1,000-$10,000, they will be awarded with a 15% deposit bonus up to a maximum of $1,500. 190 lots have to be traded in order to activate the bonus.
The second tier is between deposits $10,001 to $50,000. This will offer a 15% bonus up to $7,500 and an entry ticket for the lucky draw. 940 lots are required to be traded in case of this bonus. The next offer is for deposits between $50,001 to 100,000 and will also offer a 15% deposit bonus with a maximum limit of $15.000 as well as an entry to the lucky draw. 1,875 lots have to be traded to trigger this bonus.
The last category is that of traders who make a deposit above $100,001. In this case a bonus of 15% up to $30,000 will be awarded. Traders will be required to trade 3,750 lots to trigger the bonus.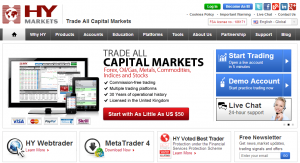 The grand prize of the promotion will be the mentioned luxurious trip to the Caribbean. The greatest part of this offer is that traders will have one in a five chance to win this prize. This means that if 100 traders are eligible for the prize, then 20 winners will be selected. If 500 traders participate in the promotion, then 100 winners will be selected.
About HYMarkets
HYMarkets is a major UK based broker offering multiple services to clients globally. The broker is mainly specialized on forex trading but other times of assets such as oil, commodities, indices, stocks and more are also available. The broker has more than 30 years of experience in the business.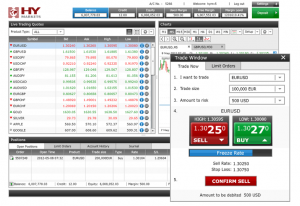 HYMarkets is regulated by the Financial Services Authority of the United Kingdom. This means that it follows some of the strictest rules regarding online trading and only the very best financial service providers manage to become approved.
The services offered by HYMarkets can be accessed using the very popular MetaTrader 4 platform or the HY Webtrader platform. The HY Webtrader allows traders to access their trading accounts right from their browsers. This will permit traders to log in and trade from any device with an internet connection, without having to first download a software application.
Traders are able to register three kinds of real money accounts. The mini account was created for beginners that deposits very small sums of money. The standard account was designed for experienced traders who indent to deposit at least $750. The premium account was created for large and highly experienced traders interested in making a deposit above $2,500.
Based on this, it appears that the new promotions was designated for more experienced traders. This, however does not mean that new traders can't participate. The only requirement to participate is to complete the mentioned deposit and trading volume requirements.