ForexNewsNow – Renowned forex broker OANDA has just announced the release of a revolutionary new service called fxTradeNOW that will allow forex traders the possibility to trade from any website they are located at without the need to log into their broker accounts on a separate webpage.
What is fxTradeNOW?
fxTradeNOW is a Google Chrome browser extension that will allow traders registered at OANDA to trade forex from any website they are located at. After the extension has been installed, a small icon will appear on the trader's Google Chrome browser that if clicked will bring up OANDA's trading interface.
The usefulness of this tool lies in the fact that traders will not have to open a separate browser window if they intend to access their OANDA accounts and execute trades. By accessing the extension, traders will be able to execute trades from the same page or window that is open at the respective moment.
This is very useful if traders are browsing through a large financial news website, for example. In this case traders will be able to evaluate the piece of financial information on the respective website at the same time they are executing the appropriate moves in their trading accounts.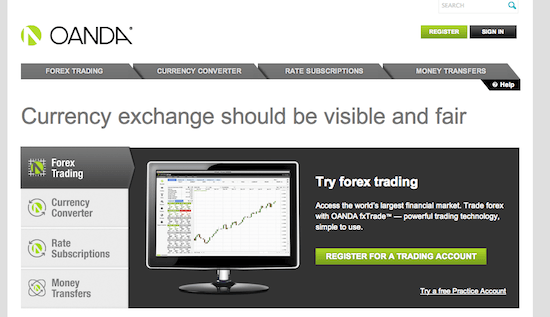 The new fxTradeNOW Chrome extension also includes real-time quotes as well as advanced charting possibilities. Various options are also available, such as entering take profit, stop loss and trailing stop orders. Another interesting feature included in the extension is the possibility to scan the text of a website that references currencies and monetary transactions.
OANDA's vice president of trading Courtney Gibson explained that the new tool will give OANDA traders a competitive advantage due to the fact that it allows them to connect the broker's trading platform with live news and financial analysis.
The OANDA fxTradeNOW Google Chrome browser extension can be downloaded from the Chrome Web Store. The broker has also explained that it will work on the introduction of new and additional features in the future, such as the possibility of setting trade defaults and availability for other web browsers.
About OANDA
OANDA is a renowned forex broker that offers a large span of quality services. The major aspect of the broker lies in innovation. The broker constantly strives to develop new trading technology and tools that will aid brokers achieve success in the world of online trading.
Trading at OANDA is possible through the innovative fxTrade trading platform. The trading platform has been designed to attract both casual and expert traders. Highly advanced traders also have the possibility to use APIs for automated trading and explore the huge variety of advanced features specially designed for tech-savvies and hardcore forex traders.
Spreads are usually very low at OANDA but can be a bit high in case of very exotic currency pairs. The broker also offers a very large selection of currency pairs that spans form various mainstream pairs to a multitude of smaller and more exotic pairs that are not available at most other forex brokers.