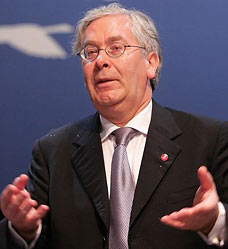 NEW YORK (Forex News Now) – The pound slid against the dollar on Wednesday, after it emerged that Bank of England policymakers in July discussed whether to ease policy further to offset a drop in the growth outlook.
In European midday currency trading, USD/GBP traded at 1.5187, down 0.51 percent on the day, after falling from a 2-day high of 1.5336.
Minutes from the July meeting of the Bank of England's Monetary Policy Committee, which were published Wednesday, also showed that the oanel voted 7-1 in favor of keeping interest rates steady at a historic low of 0.5 percent.
According to forex analysis, GBP/USD was likely to touch support around the low of July 9, 1.5051, and encounter immediate resistance around the daily high, 1.5336.
Sterling's losses also as FX traders awaited the testimony of Ben S. Bernanke, the U.S. Federal Reserve chairman, who was set to speak before the Senate Banking Committee in Washington, D.C.
Meanwhile, the pound climbed slightly versus the euro: EUR/GBP traded at 0.8436, down 0.05 percent.