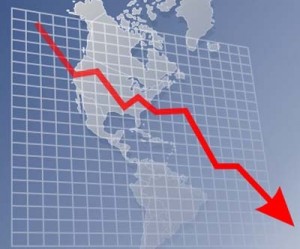 NEW YORK (Forex News Now) – Today the dollar continued to slide against major currency pairs as disappointing news concerning the still-sluggish U.S. economy impacted the currency.
The dollar dropped 1.31% to 1.3487 against the euro, its lowest mark against that currency since February of this year.  The dollar also witnessed losses against the yen (-0.25% to 84.18), Canadian dollar (-0.99% to 1.0243), pound (-0.88% to 1.5819) and Swiss franc (-0.28% to 0.9827).  USD also fell against the Aussie (-1.1% to 0.9588) and the New Zealand dollar (-0.71% to 0.7337).  

Disappointing Reports from US
The global forex news that caused this sell-off worldwide in the dollar came in the form of two disappointing reports: the U.S. durable goods orders report and the new single home sales report for August.
The U.S. Department of Commerce reported that orders for durable goods posted their largest decline in a year, dropping 1.3 percent in August after rising 0.7 percent in July.  Analysts were expecting a drop of 1 percent.
Also, new single home sales figures were the second-lowest on record for the month of August, increasing speculation that the housing market continues to be a drag on the economy and will do so for the foreseeable future. Sales were down by 29% from August, 2009, due to continuing problems with tight credit, high unemployment, and high inventories of foreclosures and other distressed properties.
Home sales are generally viewed as an indicator of the strength of the American economy and consumer confidence in future growth.
Analysts Claim Economy Still Weak
Nick Bennenbroek, head of forex strategy at Wells Fargo, commented on the global forex news.  "Overall, both durables and housing numbers suggest the economy is still weak and that the Federal Reserve is still on track for a second round of quantitative easing. And this is negative for the dollar, and as a result we have seen it fall against the euro."
The dollar did put in a good – albeit brief – performance against the yen earlier, spiking up to 85.38 from 84.55 in Asian markets.  The dramatic increase over a short period of time led some to speculate that the Japanese government had intervened once more.  No conclusive proof has been uncovered, though, and the strengthening of USD/JPY was short-lived.
Those interested in getting in on the dollar should wait until the Federal Reserve reveals its assumed plan for more stimulus in the market.  The dollar has a chance of climbing slightly before and then turning downwards following the announcement.