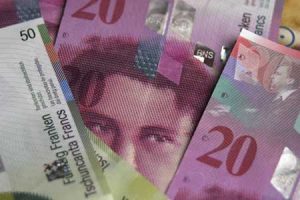 NEW YORK (Forex News Now) – The Swiss franc extended its gains versus the dollar on Monday into a second day, as FX traders awaited a key interest rate decision by the U.S. Federal Reserve.
In European late morning currency market trading, USD/CHF hit 1.005, down 0.49 percent on the day.
Some FX traders speculated that Fed may note the need to pump more stimulus into the flagging U.S. economy when it announces its interest rate decision on Tuesday.
According to intraday analysis, USD/CHF was likely to touch support around the low of Sept. 14, 0.9932, and encounter resistance around Friday's high, 1.0183.
The Swissy's gains also came after data from the Commodity Futures Trading Commission data showed that FX traders had increased bets against the greenback to the highest level in a month, while sharply cutting back net short positions in the euro and sterling, Reuters reported.
Elsewhere, the Swiss franc climbed against the euro: EUR/CHF traded at 1.3158, down 0.14 percent.