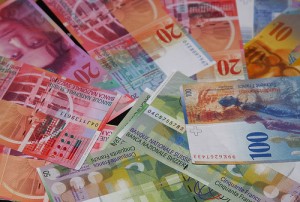 NEW YORK (Forex News Now) – The dollar jumped against the Swiss franc on Wednesday, after a poll showed that Swiss economic optimism dropped in September and Japan intervened in currency market trading.
In European morning online FX trading, USD/CHF hit 1.0045, up 0.83 percent on the day.
A report from the Mannheim-based ZEW think tank showed earlier that Swiss investors and analysts became pessimistic on the economy in September: the ZEW economic expectations index dropped to -5.1 during the month, down from 9.1 in August.
According to USD CHF analysis, USD/CHF was likely to touch support around Tuesday's low, 0.9932, and encounter immediate resistance around Friday's high, 1.0277.
Earlier in the day, Japan intervened to sell its currency for the first time in six years.
Japan's finance minister, Yoshihiko Noda, explained the intervention by saying the effect of the yen's rise on the economy could not be ignored and the country would continue to take action; however, he added that Japan had been acting solo in the move.
Elsewhere, the Swissy also slid versus the euro: EUR/CHF traded at 1.3033, up 0.65 percent, according to intraday analysis.