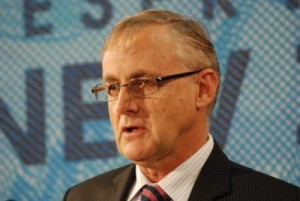 NEW YORK (Forex News Now) – The New Zealand dollar pared gains versus its U.S. counterpart on Monday, as FX traders awaited a key report on retail sales in New Zealand.
In late European currency market trading, NZD/USD hit 0.7324, up 0.53 percent on the day, after retreating from a 5-week high of 0.7342.
The retail sales data, an important gauge of consumer spending, is expected to show that there was zero growth in retail sales grew during month-on-month in July, according to two online FX trading news outlets, after an increase of 0.9 percent in June.
According to intraday analysis, NZD/USD was likely to touch support around the daily low, 0.7283, and encounter immediate resistance around the daily high, 0.7342.
The kiwi's gains came after official data showed that Chinese industrial production jumped 13.9 percent year-on-year in August; reports on retail sales and consumer price inflation were also encouraging.
Elsewhere, the kiwi fell slightly versus the Australian dollar: AUD/NZD traded at 1.2739, up 0.17 percent.