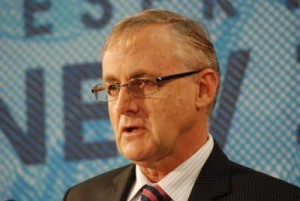 NEW YORK (Forex News Now) – The New Zealand dollar sank against its U.S. counterpart on Thursday, erasing the previous day's gains, after its central bank governor, Alan Bollard, lowered his inflation forecast.
In European midday currency trading, NZD/USD struck 0.7111, down 0.52 percent on the day.
The Reserve Bank of New Zealand earlier cut its expectation for a jump in inflation to "around 5 percent or just below," from more than 5 percent in the first quarter next year, the New Zealand Herald reported.
According to forex analysis, NZD/USD was likely to touch immediate support around the low of Aug. 16, 0.6996, and encounter resistance around Wednesday's high, 0.7192.
FX traders, meanwhile, awaited a key weekly report on the number of new claims for unemployment benefits in the United States.
Elsewhere, the kiwi fell versus the yen: NZD/JPY traded at 60.85, down 0.4 percent.