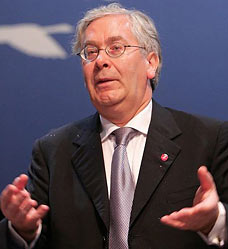 NEW YORK (Forex News Now) – Sterling slid against the dollar for a second day on Wednesday, as FX traders awaited the publication of minutes from the Bank of England's most recent policy-setting meeting.
In European morning currency trading, GBP/USD struck 1.5561, down 0.16 percent on the day.
The BoE was later set to publish the minutes from its Monetary Policy Committee's latest meeting, providing insights into the economic conditions that influenced its last interest rates decision.
According to forex analysis, GBP/USD was likely to touch immediate support around the low of July 26, 1.5409, and encounter resistance around the high of Aug. 6, 1.5998.
A Guardian/ICM poll published on Wednesday, meanwhile, showed that the new U.K. government's first 100 days in office have seen the Conservative-Liberal coalition win the key argument over the economy, with voters backing austerity measures to reduce Britain's record huge budget deficit.
Elsewhere, sterling rose versus the euro: EUR/GBP traded at 0.8258, down 0.1 percent.