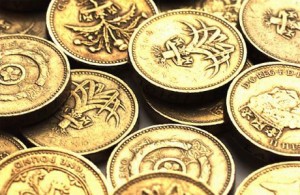 NEW YORK (Forex News Now) – The pound surged against the dollar on Friday, after official data showed that Britain's gross domestic product jumped far higher than expected in the second quarter.
In U.S. afternoon currency trading, GBP/USD traded at 1.541, up 0.99 percent on the day, close to the 2-month high of July 15.
According to Britain's statistics agency, the primary measure of the overall U.K. economic output grew 1.1 percent, up from 0.3 percent in the first quarter.
Analysts had expected more modest growth in the second quarter of 0.6 percent, two global forex news outlets reported.
According to forex analysis, GBP/USD was likely to touch support around Wednesday's low, 1.5336, and encounter immediate resistance around the high of July 15, 1.5471.
The pounds gains also came after the release of the long-awaited results of European bank stress tests.
The results showed that most European banks had sufficient capital cushions to pass the tests. But Seven of 91 European banks examined failed the tests and may need to raise more than EUR 3.5 billion, European officials said.
Meanwhile, sterling shot up versus the euro: EUR/GBP traded at 0.8348, down 1.21 percent.