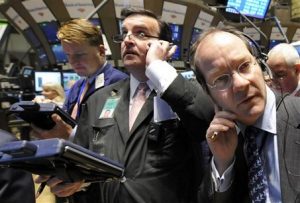 NEW YORK (Forex News Now) – U.S. stock markets closed up on Tuesday, holding on to modest gains after an earlier rally almost fizzled out in the wake of worse-than-expected data on the U.S. services sector.
The Dow Jones Industrial Average rose 57.1 points, or 0.59 percent, to 9,743; the Standard & Poor's 500-stock index gained 5.5 points, or 0.54 percent, to 1,028; and the Nasdaq Composite climbed 2.1 points, or 0.1 percent, to 2,093.
The Institute for Supply Management, an industry group, said earlier in the day that its non-manufacturing index, which tracks service-oriented firms, dropped to 53.8 in June from 55.4 in May.
Global forex analysts had expected a reading of 50, according to two major financial news outlets.
The earlier gains in U.S. stocks came on the back of upbeat comments from the Reserve Bank of Australia and as fears over the health of Europe's banking sector waned.
After holding its benchmark interest rate steady, the central bank said: "The global economy has continued to expand over recent months, consistent with a trend pace of growth."
"The expansion remains uneven, with the major advanced countries recording only modest growth overall, but growth in Asia and Latin America, to date, very strong."