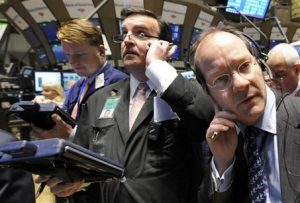 NEW YORK (Forex News Now) – U.S. stocks climbed on Tuesday, amid hopes that Europe's banking sector will not worsen the continent's sovereign debt crisis and after an upbeat outlook from Australia's central bank.
In U.S. midday stock trading, the Dow Jones Industrial Average rose 69.3 points, or 0.72 percent, to 9,756; the Standard & Poor's 500-stock index gained 8.1 points, or 0.79 percent, to 1,031; and the Nasdaq Composite climbed 12.8 points, or 0.61 percent, to 2,104.
Christian Noyer, a European Central Bank Governing Council member, said earlier that French banks were likely to pass Europe-wide stress tests, allaying fears over the sector.
"[Testing] is not finished yet, but there's no reason to believe that the result of the French banks will be different from regular tests that we do and which they passed with success," Reuters quoted Noyer as telling reporters in Paris.
Also Tuesday, the Reserve Bank of Australia held its benchmark interest rate steady and issued a bullish statement on the global recovery.
"The global economy has continued to expand over recent months, consistent with a trend pace of growth," the bank said.
"The expansion remains uneven, with the major advanced countries recording only modest growth overall, but growth in Asia and Latin America, to date, very strong."