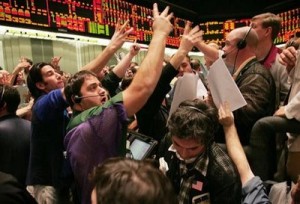 NEW YORK (Forex News Now) – U.S. stock markets rose on Wednesday, erasing earlier losses, as strong corporate earnings offset disappointing data on U.S. retail sales.
In U.S. afternoon stock trading, the Dow Jones Industrial Average climbed 4.54 points, or 0.04 percent, to 10,367 and the Standard & Poor's 500 advanced 0.25 points, or 0.02 percent, to 1,096.
The Nasdaq Composite climbed 13.22 points, or 0.59 percent, to 2,255 after Intel Corp reported sales of USD 10.8 billion and a second-quarter profit of 51 cents a share, far above market expectations.
The technology bellwether subsequently rose 3.65 percent on the Nasdaq.
Meanwhile, official data on Wednesday showed U.S. retail sales slid for a second straight month in June and by more than expected, heightening fears about slower growth in the world's biggest economy.