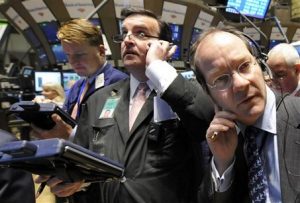 NEW YORK (Forex News Now) – U.S. stock markets slipped on Thursday, as worse-than-forecast data on the U.S. manufacturing sector offset an upbeat earnings report from financial giant JPMorgan Chase & Co.
During U.S. afternoon stock trading, the Dow Jones Industrial Average dropped 96.87 points, or 0.93 percent, to 10,270; the Nasdaq Composite fell 21.07 points, or 0.94 percent, to 2,229; and the Standard & Poor's 500 slid 10.81 points, or 0.99 percent, to 1,084.
The Federal Reserve Bank of Philadelphia said earlier that its general economic index fell to 5.1 in July, the lowest level since August 2009, from 8 in June. Analysts had expected a reading of 10.2 for the key gauge of U.S. manufacturing, two global forex news outlets reported.
Also Thursday, JPMorgan Chase said its second-quarter profit topped estimates and its loan loss reserves fell by USD 1.5 billion. However, the Dow component still fell 1.29 percent as the manufacturing report weighed.