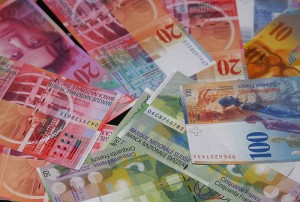 NEW YORK (Forex News Now) – The dollar fell against the swissy on Monday as the latter currency continued a record rally that has the Swiss central bank worried.
In early European currency market trading, USD/CHF hit 0.9590, down 0.42% on the day.
According to online FX trading analysts, Swiss central bank President Philipp Hildebrand may not be capable of stopping the franc from continuing the current record rally against major currencies that he calls a "burden."
Data released by Bloomberg suggests that options traders are more bullish on the franc for the next three months than any other major currency except the yen.
The Swiss franc has now risen more than 7.6 percent against the dollar for 2010.
According to USD/CHF analysis, the dollar was likely to touch support around the Oct. 14 low of 0.9463, and to encounter resistance around the Dec. 16 high of 0.9733.
Elsewhere, the swissy also continued its rise against the euro: EUR/CHF traded at 1.2606, down 0.02% in intraday analysis.