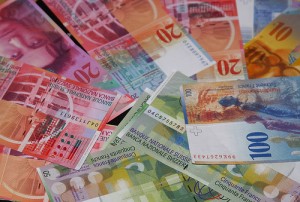 NEW YORK (Forex News Now) – The Swiss franc rose from a 2-week low against the dollar on Thursday, as FX traders awaited a key weekly report on U.S. initial jobless claims.
In European morning currency trading, USD/CHF struck 1.0574, down 0.25 percent on the day, after retreating from 1.0625, Wednesday's 2-week high.
The Labor Department was due later to publish data on the number of new U.S. claims for unemployment benefits last week, an important signal of overall economic health.
According to forex analysis, USD/CHF was likely to touch immediate support around Tuesday's low, 1.0459, and encounter resistance around 1.0625.
The Swissy's losses on Wednesday came as fears over the U.S. and global economies swept the forex market in the wake of disappointing data from the United States and China.
Elsewhere, the Swissy jumped versus the yen: CHF/JPY traded at 81.08, up 0.75 percent.